Kim Kardashian to pay $1.26 Million towards "Unlawful Touting" SEC Charges
The Federal Trade Commission Act is more amorphous as to its application of Section 5's "unfair or deceptive acts or practices" prohibitions to failures to disclose. Section 17(b) of the Securities Act of 1933 ("Securities Act") is much more specific. Under §17(b), a person may not promote a security without fully disclosing the receipt and amount of payment from an issuer. The provision exists to prevent deception in the marketplace by ensuring potential investors are not misled as to endorsements. Notably, these disclosure obligations are separate and apart from what is typically required under the FTC's Endorsement Guides.
The SEC charges stem from a June 13, 2021 Instagram post by Kardashian promoting an offering by EthereumMax of "Emax" tokens, a new cryptocurrency token hosted on the Ethereum blockchain. Because the Emax tokens are offered and sold as investment contracts to the general public through EthereumMax's decentralized trading platform, they are considered securities pursuant to Section 2(a)(1) of the Securities Act. Kardashian wrote: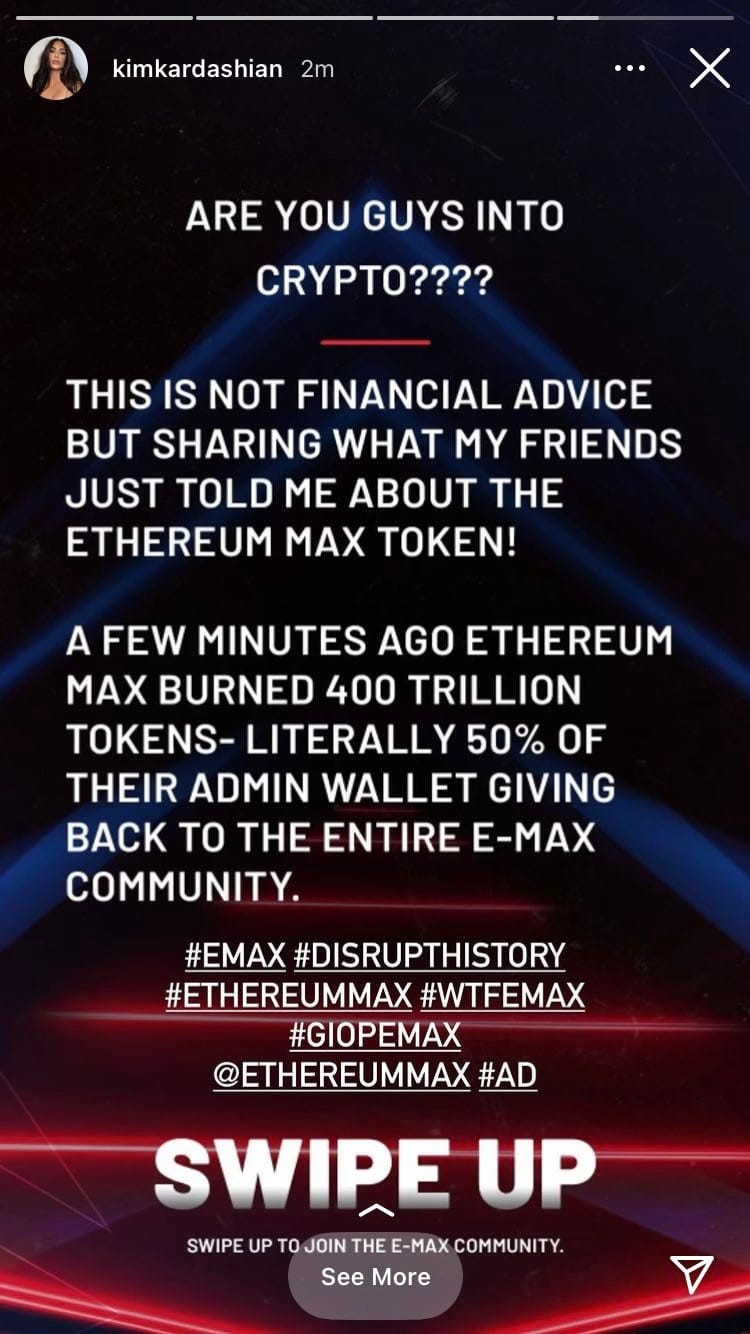 Although Kardashian apparently disclosed that the post was a "#AD" (per FTC requirements) at the bottom of the post, she failed to mention the $250,000 compensation she received from EthereumMax for publishing it. So cringe.
In response to the charges Kardashian agreed to pay $1.26 million in penalties, without admitting or denying the SEC's findings. The settlement agreement provides that Kardashian will cooperate with the SEC's ongoing investigation and will not promote any cryptocurrency asset securities for three years.
SEC Chair Gary Gensler expressed the agency's appreciation for Kardashian's cooperation in an interview with CNBC. He explained "this was really to protect the investing public." Chair Gensler additionally made a video warning investors to approach celebrity/influencer endorsements of assets with caution and to conduct adequate research before making investments.
TAKEAWAY: This is yet another regulatory enforcement action against a member of the Kardashian clan in connection with their social media sponsored posts. The action is a reminder that an influencer and brand need to consider all applicable regulatory requirements, which may vary depending on the product or service being promoted. For example, Kim's social media posts for a "morning sickness" prescription drug was found to violate the Federal Food-Drug and Cosmetic Act because it promoted unapproved claims and failed to disclose adverse risks.
Partner

Marketers, advertisers, agencies and suppliers, among others, regularly seek Andy's counsel regarding legal aspects of their advertising and promotional marketing businesses. He's pragmatic and always looks for ...

Associate

As a member of Olshan's Brand Management and Protection Group, Morgan helps guide clients on all facets of brand management, including privacy, advertising and intellectual property optimization, enforcement and defense ...
Recent Posts
Contributors
Archives