Print PDF
Subscribe

Add blog to your RSS reader
Get blog updates by email
Popular Topics
Contact Us
212.451.2258
Lumosity Settles FTC Charges of Deceptive Advertising For Its "Brain Training" Program
Lumosity and FTC reach a settlement with regard to Lumosity's Brain Training Program
We have all seen the ads for Lumosity, which made training your brain sound like a no brainer. Supposedly by playing the Lumosity games for 10-15 minutes several times a week, one would delay memory decline; protect against dementia and Alzheimer's disease; improve school, work and athletic performance; and reduce the effects of everything from ADHD to PTSD. The Lumosity ads claimed its program benefited everyone, including, students, athletes, the elderly, and those with reduce cognitive abilities associated with health conditions such as stroke, traumatic brain injury, PTSD,ADHD, the side effects of chemotherapy, and Turner syndrome. Lumosity claimed that scientific studies proved these benefits.
Pretty amazing, right? For a small fee, consumers could become members of the site, play games and achieve their "full potential in every aspect of life." That sounds like a miracle.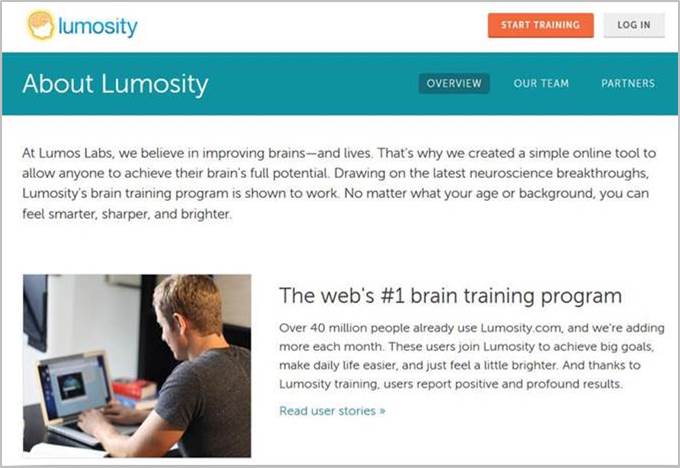 Unfortunately for Lumosity, the FTC has been increasingly focused on claims that relate to cognition. Indeed, the FTC filed a complaint against Lumos Labs, the creators and marketers of the brain training program, as well as against the individual defendants, co-founder and former CEO Kunal Sarkar and co-founder and former Chief Scientific Officer Michael Scanlon (collectively "Defendants") on January 4, 2016, charging that Defendants violated federal law by falsely representing the foregoing claims, and also charging that defendants failed to disclose that some consumer testimonials featured on the website had been solicited through contests that promised significant prizes, including a free iPad, a lifetime Lumosity subscription, and a round-trip to San Francisco.

Shortly thereafter, the FTC announced that Defendants had reached a settlement with the FTC. As part of the settlement, Lumos Labs will pay $2 million to the FTC in redress, will notify subscribers who signed up between January 1, 2009 and December 31, 2014 about the FTC action and provide them with an easy way to cancel their auto-renewal to avoid future billing. The order also imposes a $50 million judgement against Lumos Labs, which will be suspended due to its financial condition after the company pays the afore-mentioned $2 million. The order also includes injunctive provisions to protect consumers from future misrepresentations by the company. For example, Lumosity will need human clinical testing before making a broad range of cognition claims.
Take away: The settlement illustrates the importance of having scientific or factual data to support specific health or safety claims in advertising. This is especially true when tied to health related benefits that could mislead or deceive consumers. Moreover, when there is a material connection between an advertiser and an endorser that is not readily apparent to a reasonable consumer, that information must be clearly disclosed to consumers, pursuant to the FTC's Endorsement Guidelines. Finally, the action highlights the FTC's continued vigilance on cognitive claims.
Back to Page