Print PDF
Subscribe

Add blog to your RSS reader
Get blog updates by email
Popular Topics
Contact Us
212.451.2258
Swimsuit Company's Instagram Promotion Goes Viral
Brands need to carefully plan all promotions and to expect the unexpected with social media.
A social media promotion aimed at gaining exposure for the California-based clothing company, Sunny Co. Clothing, has backfired, with the company struggling to deliver on its promotional promises. In May 2017, Sunny Co. Clothing posted a promotion on its Instagram page. The photo displayed a model wearing Sunny Co. Clothing's "Pamela" red full piece bathing suit, and the caption encouraged Instagram users to repost the photo within 24 hours. The post went on to state that every person that reposts the image, tagging Sunny Co. Clothing "will receive a FREE Pamela Sunny Suit." The promotion was limited to a 24-hour period, and conditioned only in that participants would be responsible for paying the shipping and handling costs.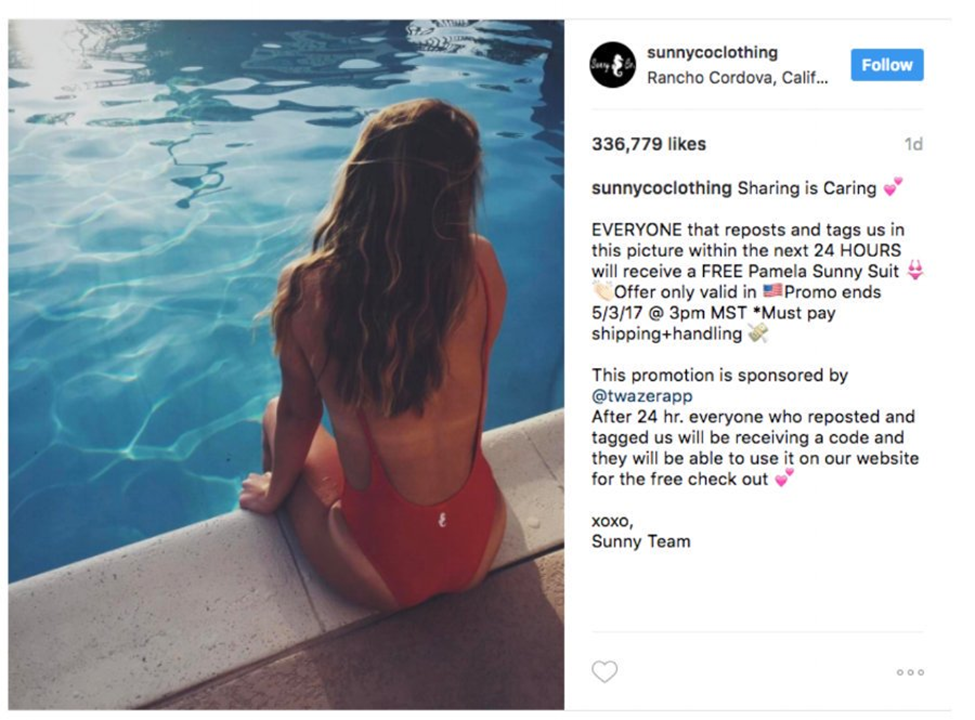 It did not take too long for the promotion to go viral, and within a period of hours, the photo had been reposted several thousand times. Potentially upon realization of their inability to fulfil such a large quantity of orders for free swimsuits, Sunny Co. Clothing uploaded a subsequent post, attempting to retroactively impose additional conditions on the promotion. The second post stipulated that there were to be no exchanges or returns of promotional swimsuits, that shipping will likely be delayed, taking approximately 3 to 6 weeks, and that Sunny Co. Clothing "reserve the right to cap the promotion if deemed necessary."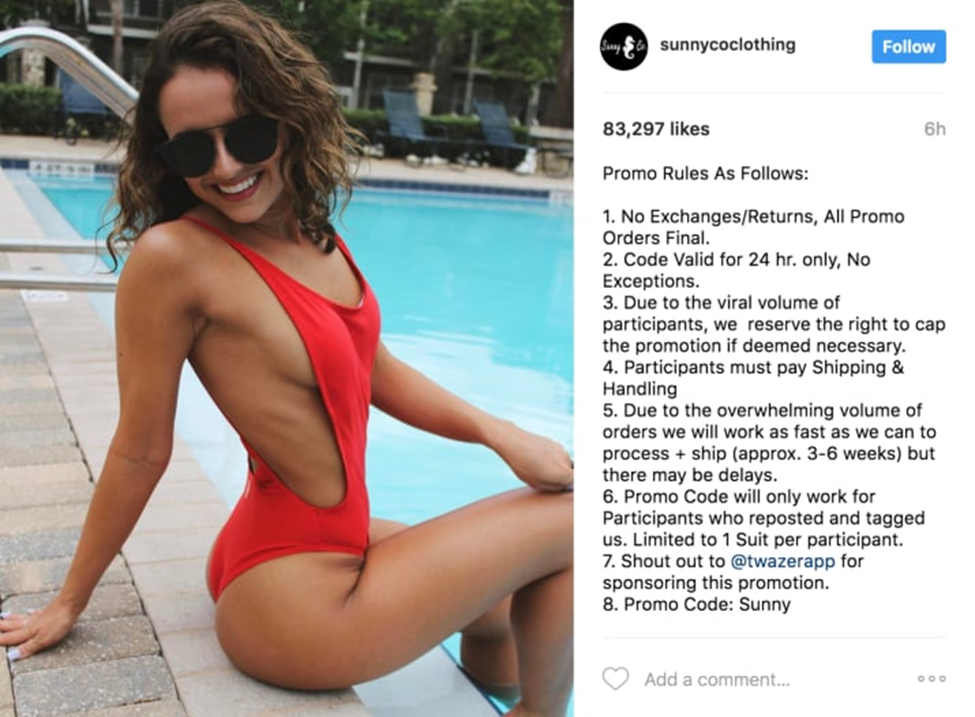 Sunny Co. Clothing is yet to fill all of the orders resulting from the promotion, and its website designates each of their swimsuit products as "Sold Out." The website states that company is prioritizing fulfilling outstanding orders resulting from the promotion before it restocks other inventory. In addition, promotion participants have complained that they were charged the full price of the swimsuit, as opposed to just the shipping and handling costs when they entered their discount code. Sunny Co. Clothing has said that those payments will be refunded. As yet, participants in the promotion have not pursued legal action against Sunny Co. Clothing. However, Sunny Co. Clothing is currently unable to manufacture saleable inventory and therefore the promotion has effectively stalled sales.
Takeaway:. Marketers who are considering utilizing social media platforms for promotional activities should work closely with experienced legal counsel to help address not just legal compliance obligations that arise from the promotion, but to address potential issues
Back to Page