Print PDF
Subscribe

Add blog to your RSS reader
Get blog updates by email
Popular Topics
Contact Us
212.451.2258
FTC Native Advertising Guidelines Will Likely Trigger Future Enforcement
The FTC's Enforcement Policy Statement on Deceptively Formatted Advertisements and business guidance detailing the agency's position with respect to native advertising reinforces advertisers' obligation to be transparent and authentic. Moreover, with the increasing prevalence of native ads, the FTC's announcements likely will trigger enforcement actions in the not too distant future.
What are native ads?
Native advertising has been the recent buzzword for tech-savvy marketers. Native advertising is commercial content that typically matches the form and function of the platform in which it appears. For example, if you are looking at nytimes.com, in addition to articles on news and various subjects, there will appear stories that look very similar to the surrounding content – including the same layout and font. Those "stories" are actually commercial content that advertisers have paid to be placed on the nytimes.com webpage.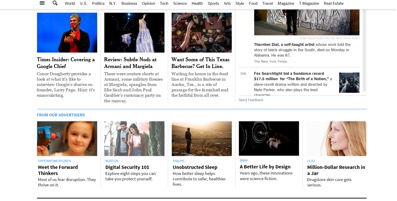 This type of advertising has become increasingly popular because consumers are shunning traditional media in favor of social media and web content. As a result, they are exposed to less traditional advertising. By engaging with consumers in the same channel as they are consuming content, advertisers hope to engage with consumers and get their message out.
FTC Guidance
Regulators are concerned, however, that consumers will not appreciate that the content is actually paid for by a brand and is not independent editorial journalism. This is not a new concern. Long ago, the FTC made clear that infomercials that look like news or entertainment shows must disclose that they were actually paid advertisements. The same is true for print advertorials. More recently, the FTC has made clear that it expects social media influencers to disclose to their followers that there is a material connection between a brand and a tweet or a post. In its most recent Guidance, the FTC wants advertisers to clearly disclose to consumers at the outset that the content is sponsored. (This is of course inconsistent with the FTC's position on movie and television product placement advertising, in which the agency contends no disclosure, is necessary.)
The FTC's position is that where a consumer would not reasonably appreciate that the content is commercial, a clear affirmative disclosure needs to be provided. In making the disclosure, an advertiser should keep in mind the FTC's updated .Com Disclosure Guide and the four P's – prominence, presentation so that it is understood, proximity to the triggering claim, and placement. This means that the disclosure should be on the main page of the publisher's site where consumers will notice it and be able to easily identify the content to which the disclosure applies. Moreover, the disclosure should be in front of or above the headline in legible font and color so that it is readily seen by consumers. In terms of presentation, the FTC recommends terms such as "Ad," "Advertisement," "Paid Advertisement," "Sponsored Advertising Content," or some variation thereof. The FTC shuns terms such as "Promoted" or "Promoted Stories," and depending in the commercial nature of the content may not accept disclosures such as such as "Presented by [X]," "Brought to You by [X]," "Promoted by [X]," or "Sponsored by [X]".
As has historically been the case, the FTC will likely follow up its announcements with high profile enforcement actions. This is done so that brands and publishers take the FTC's pronouncements seriously and incorporate the guidance into their marketing efforts. For more on this trend, please read the following article published in Bloomberg BNA's Electronic Commerce & Law Report addressing the outlook of social media advertising.
Take Away:
As brands continue to adapt to consumers changing viewing habits, they need to consider the platform and channel in which the advertisement will be viewed. Where it is not clear to a reasonable consumer that the content is a paid advertisement, brands must be transparent and disclose that it is commercial content in manner that is reasonably seen and understood by a consumer.
Back to Page